The Vision of Shree Music stands strong on The four 'P' Pillars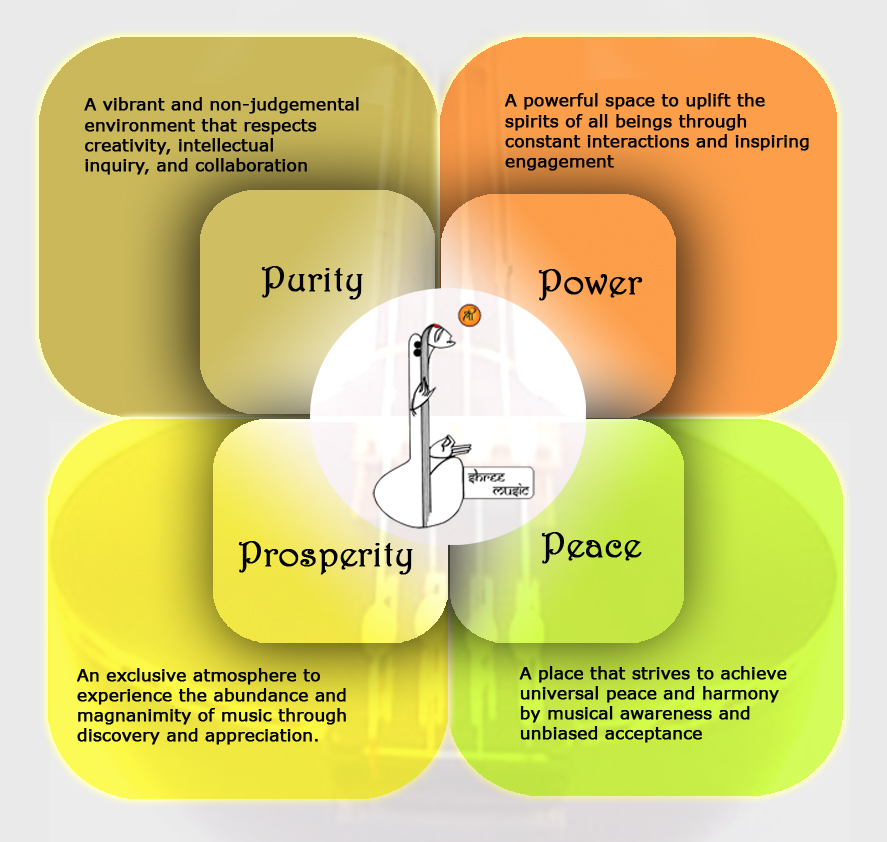 The 4 programs are specifically designed by us to give you a 360° view of music and its association.
Smt Sinchana Murthy is the Founder Director of Shree Music, a Bangalore based music center that uses musical activities for therapy, training and performance, and as a medium for healing, counselling and community development.
A senior disciple of Hindustani Classical Music under Pandit. Shri M P Hegde, Padigeri, a Doyan of Gwalior Gharana. A certified Music Therapist and PsychoTherapy practitioner with a specialisation in Mandala Art. A Vidwat in Bharatnatyam and Kathak practitioner, Mrs Murthy is a trained vocalist who has performed in many regional television shows and cultural venues, and has been teaching Indian classical music in Bengaluru since 2010. She has years of experience as an RJ at FM Rainbow and also of Anchoring many cultural events. She is an All India Radio artiste with B- High grade, and is the recipient of multiple recognitions, including scholarship from the Karnataka Sangeetha Nrutya Academy for Indian music, Karnataka State Kishora Prathibha award for Kannada Light Music, and YuvaChetana award for Indian music.
An Art & Movement therapist and a gold-medallist in English Literature, Mrs Murthy's process fundamentally revolves around deriving 'NADA' from music, 'ABHIVYAKTI' from dance and 'BHAAVA' from literature, to guide her students and clients. She includes the teachings of Mandala Art, Yoga, Reiki and Dance movements in her sessions. According to her– 'Art is considered as an entertainment- For Vilaasa, but underneath, there is an experience, which elevates the human conscious to the universal level – Vikasa'.
Mrs Murthy has produced and directed many dance ballets like Sthree– Story of Universal Womenhood, and Gupta Gamini – a ballet on the life of Maa Sharada, Karnataka Vaibhavam and Vasudhaiva Kutumbakam' She is a Cultural Secretary at the NGO Unnati Seva Trust, along with her husband and Hindustani vocalist, Shri Sadashiv Bhat. She is also a classical music faculty at Jeevana Yoga Pratishtana, Bengaluru and Kampananka- TeleRadio.